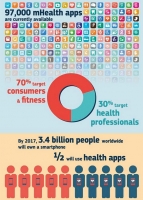 This Consultation is open until 3 July 2014. Outcomes will be published in the second quarter of 2014 and respective policy actions are due to be taken in 2015.
This Consultation is of particular note given that it could potentially have an impact on the development of eHealth technologies in Europe and also champions the benefits of personalised medicine. It is also an opportunity for VPH to further raise its profile with the European Commission in advance of the contact programme this summer.
It should be noted that mHealth is not confined to mobile phone applications and includes all patient monitoring devices and other wireless devices. Of crucial importance is that the Green Paper, which is the subject of the consultation, includes dedicated sections on the role of "Big Data" and "Data Protection".
The objective of the Public Consultation is to invite interested parties to submit their specific comments, suggestions, explanations or contributions on relevant aspects related to future EU action in the domain of mHealth. The Public Consultation might well be a first step for the European Commission to set the bases for specific legislation or policy-initiatives to regulate and promote the use of mHealth in Europe.
The Commission has previously alluded to its commitment to the development of mHealth solutions though one of its eHealth calls of the 2014 Work Programme of Horizon 2020: PHC 26: Self management of health and disease: citizen engagement and mHealth.
The most relevant areas of interest highlighted in the Green Paper pertain primarily to role played by mHealth in the effective delivery of personalised patient treatment including:
Emphasises that mHealth is a driving force in the delivery of effective personalised healthcare through its ability to deliver more accurate diagnosis and treatment;




Enquires as to how big data can be used correctly to maximize research benefits;




The use of mobile apps can encourage adherence to a healthy lifestyle and lend further support to healthcare professionals, resulting in more personalised and predictive medication and treatment for patients;




Input will help identify the right way forward to unlock the potential of mobile health in the EU.



The consultation also seeks to address solutions relating to foreseeable problems in the effective implementation of mHealth solutions. Stakeholders are requested to respond to a series of questions related to these perceived issues. Three questions may be of interest for VPH:
What policy action could be appropriate at EU, as well as at national, level to support equal access and accessibility to healthcare via mHealth?




What, if anything, do you think should be done, in addition to the proposed actions of the eHealth Action Plan 2012-2020, in order to increase interoperability of mHealth solutions?;




Could you provide specific topics for EU level research & innovation and deployment priorities for mHealth?



This Consultation represents ample opportunity to highlight the need to support in silico medicine as way to address the barriers to the deployment of mHealth solutions in Europe should VPH choose to respond. It could also be highlighted that support for in silico medicine would be an effective means of capitalizing on the opportunities that "big data" presents and to put forward the VPH position on Data Protection.
More information about the m Health green paper can be found here.