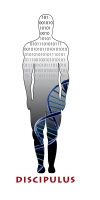 We are really approaching the end of the consultation process to define the Scientific and Technological (S&T) challenges for the Digital Patient via the DISCIPULUS project. This is really the last leg! The next version of the 'Digital Patient' news will highlight key aspects of the Roadmap.
Experts across Europe are spending time and effort in describing what are the S&T challenges to achieve the 'Digital Patient'. A last version is being circulated for comments, while the current version can be downloaded from this link.
We have agreed with the EC that the content of the Roadmap would be delivered by the end of May 2013 with a printed version by the end of June 2013.
If you feel that you would like to contribute, please send an e-mail to Veli Stroetmann [veli.stroetmann@empirica.com], who is coordinating the huge effort of getting the Roadmap together.
Alternatively you can subscribe to the DISCIPULUS forum, where you will be able to step into the discussions which are currently taking place, having the possibility to offer your view and your expertize to this common goal of writing the roadmap.
PLEASE make sure that your voice is heard! We welcome comments from all the different actors within the VPH community and beyond. This is a decisive Roadmap for Horizon 2020 and we need your help.