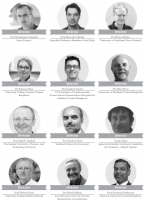 12 organisations now form the Board of Directors and will be driving the Institute in 2017:
INRIA

, represented by Dominique Chapelle

Norwegian University of Science and Technology

, represented by Stig Omholt

Saarland University

, represented by Norbert Graf

University of Auckland, represented by Peter Hunter
University College London

, represented by Vanessa Diaz

University of Sheffield

, represented by Rod Hose

Ospedale Pediatrico Bambino Gesù

, represented by Marcello Chinali and Edwin Morley Fletcher

Agència de Qualitat i Avaluació Sanitàries de Catalunya (AQuAS), 

represented by Tomas Salas

Great Ormond Street Hospital,

represented by Andrew Taylor

University College Dublin, represented by Walter Kolch
Swansea University,

represented by Perumal Nithiarasu

Luxembourg Centre for Systems Biomedicine (LCSB), Rudi BALLING
While the first seven in the list are established supporting members, we are happy to announce that over the year we have gained the support of five new organisations with different backgrounds: a regulatory agency, a pediatric hospital, an important U.K. based university, and two research centers focused on System Medicine.
Since the establishment of the Institute, this is the first time VPHi has such a large Board of Directors, confirming the increased importance in silico medicine research has reached.
More information can be found here.