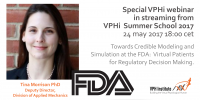 Tina Morrison, Deputy Director of the Division of Applied Mechanics at the FDA, will give an honorary lecture at the VPHi Summer School 2017, titled "Towards Credible Modeling and Simulation at the FDA: Virtual Patients for Regulatory Decision Making". The lecture will be live streamed at 18pm CET on 24 May 2017 and will be visibile from this link:
www.upf.edu/retransmissions/teracue3.html

To address the requests from both the healthcare industry and patients for getting access to new and improved treatments faster, the FDA investigates various strategies to accelerate the regulatory process while further increasing patient safety. Computational Modeling and Simulation is a very promising avenue that the FDA is considering.
In a 2011 report, FDA recognized an important role for modeling and simulation to advance regulatory science and its strategic priorities. In that document, FDA identified eight Regulatory Science Priority Areas, four of which had a specific method or approach for modeling and simulation.
FDA develops and reviews a broad range of modeling and simulation: chemical exposure models, knowledge-based models, mechanistic models, physics-based models, and statistical models and methods. Additionally, simulation results are used to support regulatory evaluation in different phases of the product's life cycle, which can vary based on the Center and product area. To advance the use of modeling and simulation to support the development and evaluation of the products that FDA regulates, FDA has formed a Committee on Modeling and Simulation. The main goals of the Committee are to:
Raise awareness of the successes, challenges and opportunities for modeling and simulation to advance regulatory science at the FDA;

Promote consistent regulatory review across Divisions, Offices, and Centers for technical matters pertaining to modeling and simulation through collaborative communication and unified messaging;

Promote consistent decision making related to modeling and simulation across the FDA by developing credibility principles that can be applied to a wide-range of disciplines;

Serve as a resource of and for expertise on modeling and simulation on current and emerging technologies for the FDA.

Additionally, FDA is seeking partnership with national and international organizations pursuing similar activities. The presentation from FDA will provide details on modeling and simulation initiatives to support medical products and an update on the Committee.
Bio: Dr. Tina Morrison is the chair of the new FDA-wide working group on Modeling and Simulation, sponsored by the Office of the Chief Scientists, which will launch in the Fall of 2016. She has been serving as the Regulatory Advisor of Computational Modeling for the Office of Device Evaluation since 2013. In that capacity, she leads the Regulatory Review of Computational Modeling working group at CDRH, which has developed guidance documents on the use of modeling and simulation in the regulatory evaluation of medical devices. She dedicates much of her energy towards advancing regulatory science through modeling and simulation because she believes the future of medical device design and evaluation, and thus enhanced patient care, lies with computation and enhanced visualization. She serves as chair of the ASME V&V40 Subcommittee on Computational Modeling of Medical Devices, where she is leading the development of a strategy to assess the credibility of computational models. She is working with a team at CDRH to implement this strategy into the review of premarket submissions that leverage computational modeling. For seven years, she was a scientific reviewer on a variety of medical device premarket submissions in Cardiovascular Devices. She received her PhD in Theoretical and Applied Mechanics from Cornell University in 2006. Profile in Figshare.

Interested to attend the VPHi Summer School 2017? Don't miss the opportunity!