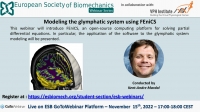 The next webinar of the VPHi Keynote Webinar Series will be held on 15 November 2022, 17-18 CET in collaboration with the ESB European Society of Biomechanics and will focus on "Modeling the glymphatic system using FEniCS" by Prof. Kent-Andre Mardal from the University of Oslo
Click Here to register for the webinar
Abstract
FEniCS is an open-source computing platform for solving partial differential equations. In particular, the application of the software to a biomedically-relevant scenario will be presented: the glymphatic system. The discovery of the glymphatic system and meningeal lymphatics propose an alternative view on the basic metabolism of the brain. Perivascular spaces surround brain vessels and are now considered highways for the cerebrospinal fluid, allowing for entry of nutrients and clearance of neurotoxic solutes from the brain. In this talk we will discuss some recent findings and discuss some of the recent models proposed for the system. In particular, we will discuss the role of sleep and some recently developed software tools for numerical simulations.
Short Bio
Kent-Andre Mardal. Kent-Andre Mardal (born 1974) is a mathematician with a strong interest in biomedical applications and has for the last decade established an interdisciplinary collaboration on computational modeling of the physiology of the human brain, with researchers in both numerics, mechanics, and basic and clinical medicine, both nationally and internationally. He has been a core-developer of the internationally recognized software framework FEniCS, which has tens of thousands of users world-wide and the software is crucial in his biomedical application. Central in the application orient research is the development of core methodology for compatible, efficient discretization schemes.
-----------------
This webinar is organised within the VPHi keynote webinar series, a quarterly event organized by the VPHi Student Committee that provides a forum for access to senior community members and their expert competence for chiefly young scientists, but also to the VPH community as a whole.
With the series, VPHi wishes to:
Offer added value to prospective young scientist VPHi Student members through core content
Create visibility of VPH knowledge dissemination for external stakeholders
Highlight excellence within the VPHi, additionally providing student members with a label of quality
Promote scientific interaction between junior and senior community members and across VPHi disciplines