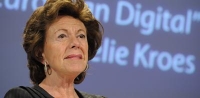 During her speech Commissioner Kroes stressed that "only when results and evidence are shared, can the community examine and compare, discard and learn. That's the philosophy behind the learned society and the scientific journal. There can be no modern science without sharing. Now we need to also make the most use of new, digital tools".
Commissioner Kroes reaffirmed her commitment to open access to scientific information, stressing that the taxpayer deserved a return on their investment and that the results of all publically funded research should be made public.
That the Commission is sticking to this position is positive for VPH and may see easier access to scientific publications in the near future, should plans for open access be put into place in Member States as is recommended by the Commission.
The full text of her speechis available here.