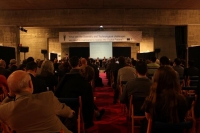 The six clinical challenges were:
Atherosclerosis
Breast and GI Cancer
Cardiomyopathy
Osteoporosis
Stroke
Dementia
These clinical challenges were posed as problems that could be solved by the Digital Patient when the technology is realised in the future. Serving as exemplars; they were chosen because they captured much of the diversity and complexity that the Digital Patient would have to deal with. The next question then was, "What are the scientific and technical challenges that need to be overcome in other to realise the Digital Patient?"
These scientific and technical challenges were explored in detail for each one of the areas below:
Generation of Information
Biomedical Information Management
Phenomenological Modelling
Mechanistic Modelling
Clinical User Interface
Translation
Identification of the scientific and technical challenges in each area was the result of an informed discussion within the scientific community.