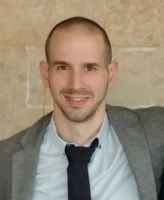 Five applications were received for the 2019 VPHi Best PhD Thesis Award in in silico medicine, from:
This year the level of all PhD theses received was very high and the competition was tough. The VPH Institute wishes to congratulate with all the participants for the excellent work and wishes all of them to continue the good work and have a bright future in the community.
After a thorough revision, the award committee assigned the prize to Alan Fabbri with his thesis on "Computational modeling of human sinoatrial node: what simulations tell us about pacemaking"
Alan did his PhD in biomedical engineering at the University of Bologna under the supervision of Prof Stefano Severi. His work focused on the development and the validation of a computational model of the action potential of the human sinoatrial node. Alan's PhD project combined basic science and potential application in clinics. Understanding better the mechanisms that underline the generation of the heart rate is indeed crucial to be able to modulate it and treat cardiac pathologies.
Currently, Alan works at the department of Medical Physiology at the University Medical Center (UMC) in Utrecht, as a post-doc. The expertise he gained during the PhD are a valuable asset for his new project, focussed on safety pharmacology. Thanks to the dynamic clamp technique, it is possible to build hybrid models by combining in real-time biological cells and in silico models, to reach more predictive models for assessment if a new drug is safe or not.
 "I am very happy to be awarded this prize. When I started my PhD I thought: "in silico medicine is the future", admitting somehow that it was difficult to see clinical applications in short time. Now I think that is becoming the present, and many studies show that. Giving a prize specifically for in silico medicine is, for me, a great acknowledgment for this discipline. I'm proud and grateful to have been selected as winner of this competition."
Alan will now attend the VPH Summer School, which will take place in Barcelona from the 10th to 14th of June 2019, and will have the opportunity to give a plenary presentation on his thesis.
We wish to congratulate again with Alan for having won the competition!
The 2020 Best thesis award in in silico medicine will be made available to all the VPHi members that defended their thesis between 1/1/2019 and 31/12/2019.
We will keep you posted on future developments!