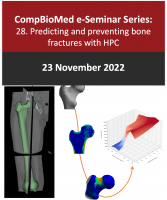 CompBioMed's 28th e-seminar will take place on 23 November 2022 at 2pm CEST and it will focus on "Predicting and preventing bone fractures with HPC" by Dr Antonino La Mattina from University of Bologna.
Abstract
Femur fracture is a catastrophic event for elderly women, resulting in severe impairment of life quality or even death in many cases. One of the major risk factor is osteoporosis, an asymptomatic metabolic disorder that causes bone mineral loss, ultimately leading to increased fragility. It is of chief importance to identify the patients at high fracture risk in order to promptly start the treatments to slow down the disease, and to develop new and more effective drugs for osteoporosis. In this seminar Dr La Mattina reviews the advancement of a Digital Twin solution for femur neck fracture risk estimation, and identifies three paths for future development, namely: automation and easy-of-use, feature enrichment and linking with neuro-muscular models, and development of an In Silico Trial technology. Each of these aspects needs HPC facilities in order to deliver a fast, robust, and relevant answer to its clinical question.
Short Bio
Dr La Mattina is a biomedical engineer with a background in signal processing and medical informatics. In 2020 he joined CompBioMed2 as a post-doctoral researcher at University of Bologna to work on fragility hip fracture prevention in post-menopausal women. In particular, he is developing a framework for the simulation of clinical trials (in silico trials) for osteoporosis treatments, leveraging HPC facilities.
For info and registration visit CompBioMed's website