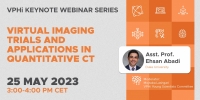 This webinar of the VPHi Keynote Webinar Series featuring Assistant Professor Ehsan Abadi from Duke University took place on Thursday 25 May 2023 at 3pm CET under the moderation of Mojtaba Lashgari, member of the VPHi Young Scientists Committee.
Click HERE to watch the webinar on YouTube
Abstract:
While Computed Tomography has the potential to provide quantitative information about the structural and functional attributes of abnormalities, quantitative CT biomarkers are shown to be highly influenced by patient attributes, scanners, and their settings. Some of these challenges can be uniquely assessed and resolved using a virtual imaging trial framework where an imaging experiment is performed virtually. In this presentation, we will introduce and discuss some of the latest advancements and applications of virtual trials and their applications in quantitative CT imaging.
Biosketch:
Ehsan Abadi is an imaging scientist at Duke University. He serves as an Assistant Professor in the departments of Radiology and Electrical & Computer Engineering, a faculty member in the Medical Physics Graduate Program and Carl E. Ravin Advanced Imaging Laboratories, and a co-Lead in the Center for Virtual Imaging Trials. Ehsan's research focuses on quantitative imaging and optimization, CT imaging, lung diseases, computational human modeling, and medical imaging simulation. He is actively involved in developing computational anthropomorphic models with various diseases such as COPD, and scanner-specific simulation platforms (e.g., DukeSim) for imaging systems. Currently, his work is centered on identifying and optimizing imaging systems to ensure accurate and precise quantifications of lung diseases.
---
This webinar is organised within the VPHi keynote webinar series, a quarterly event organized by the VPHi Young Scientists Committee that provides a forum for access to senior community members and their expert competence for chiefly young scientists, but also to the VPH community as a whole.
With the series, VPHi wishes to:
Offer added value to prospective young scientists through core content
Create visibility of VPH knowledge dissemination for external stakeholders
Highlight excellence within the VPHi, additionally providing student members with a label of quality
Promote scientific interaction between junior and senior community members and across VPHi disciplines