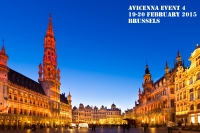 The Avicenna Project will head to Brussels on 19th and 20th February 2015 for their fourth event, which will focus on developing the draft roadmap for in silico clinical trials. The Roadmap aims to define the research and technological development needed to make this vision a tangible reality. It also aims to support the case for the creation of a new industrial sector capable of providing technologies, consulting and services for ISCT to the biomedical industry.
Following on from its successful third event, in October this year, which aimed to identify the research challenges related to the use of modelling and simulation technologies, selected delegates will shift their focus to refining the component parts of the Avicenna strategy.
By deconstructing the strategy in this way, it will allow the consortium to identify areas for improvement and ensure that the final roadmap reflects the needs of its many different stakeholders.
The 50 selected participants, who will include those that have signed up to become either authors, editors or reviewers, will come together in Brussels to work on the various sections of the Roadmap - due for completion in September 2015.
Further information on the Avicenna website